If you've been looking for a new garage door, you'll find there are many options to choose from. From steel to steel to vinyl to wood, what's the best option? If you're considering a wooden garage door, keep reading. This article will outline the key advantages and disadvantages.
Advantages
Below are four advantages to keep in mind for a wooden garage door.
Customizable
Wooden garage doors are great for those who want something custom-made. Typically, wooden garage doors are made of redwood, cedar, mahogany, or fir. From colour to style, you'll have plenty of choices. In addition, there are many different garage door hardware options available. You can additionally add windows or latches to get the exact style you're looking for. 
Aesthetics
On top of being customizable, wood is timeless and beautiful. For aesthetics, it will stand out compared to a typical vinyl garage door. The great thing about a wooden garage door is that you can bring out that rustic feel.
Home Value
Garage door replacements are great for return on investment (ROI). Not only do they help boost curb appeal but also home value. If you plan on selling your home, a wooden garage door will surely catch the eye of potential buyers. 
Environmentally Friendly
Since wood is a renewable resource, it leaves a smaller footprint than other garage material types. From a replacement point of view, wooden garage doors reduce environmental costs. Damage to a section of your door means you can replace the panel without needing a full garage door replacement. Thus, helping save your wallet too.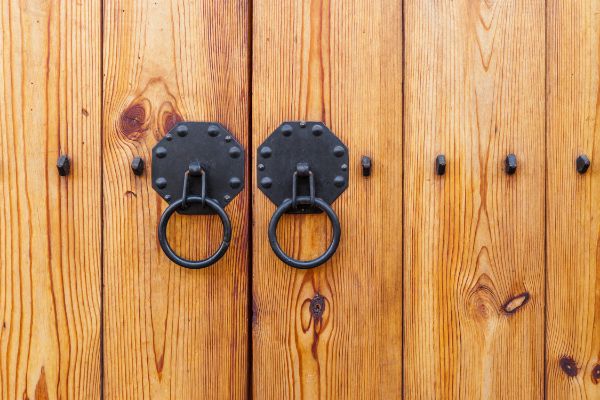 Disadvantages
Next, let's discuss five key drawbacks to a wooden garage door.
Maintenance
Be ready to put in regular maintenance with a wooden garage door. For a door with a natural finish, you'll need to have it re-coated every few years. The door will need to be sanded down, repainted, and re-sealed, or else it'll start degrading. This is due to temperature fluctuations. The door expands and contracts, which can cause the finish to break down. However, if you enjoy woodworking or other DIY projects, this may not be a disadvantage for you.
Durability
Is your garage facing west or south? Long-term sun exposure means more frequent maintenance like repainting.
We know natural wood is sturdy and heavy. Therefore, you won't have to worry about denting. However, natural wood is susceptible to other issues that could have you thinking twice. Warping issues is something to look out for. 
Warping Issues
Wooden garage doors are prone to warping because of moisture and temperature. With our long winters here in Alberta, this is something you should consider. The cold temperature means the wood can lose its structure. Proper wood sealing should help minimize the issue. With that said, be sure to keep up with regular maintenance. You can have minor warping fixed by a professional. They can repair and replace specific panels but be sure to have it done as soon as you spot the issue. The longer you wait, the more complex and costly the repair job. 
Decay Over Time
All garage doors can last up to thirty years if they're taken care of. However, steel and aluminum doors will likely last longer than wood due to durability. Without proper sealing, your door could rot, resulting in costly repairs. It's important to check the bottom part of the door frequently since it comes in contact with water the most.
Cost
Those looking for a basic garage door should not get wood. Aluminum and steel fall under the basic cost range. They're the most common and affordable option. On the other hand, wood falls under the mid to high range. Expect the price to rise with additional hardware, windows, or made-to-order doors.
Other Options
If you haven't already, you should include composite wood in your list of considerations. Many homeowners are drawn to the beautiful look of wood but don't want to think about cost or maintenance. Faux wood doors come in several options and are more affordable.
Steel faux wood has a steel base with a composite overlay. Similarly, an aluminum door will have an aluminum base with a faux wood composite overlay. Lastly, you could choose a fibreglass faux wood door. This one has a wood-grain fibreglass surface to resemble the texture and grain of genuine wood.
Faux wood doors are considerably lighter than real wood. In case of a power outage, you can manually lift the door much easier. With a steel or aluminum base, this also means they're more durable. You won't have to worry about warps or cracks, thus lowering annual maintenance.
What's Best For You
If your current garage door is acting up, over thirty years old, or looking dated, now might be the time to replace it. Still not sure what option is best for your home? Talk to a professional garage door technician. Choosing a new door should include factors like cost, style, size, and of course, material. They'll help you choose the right option for your home and your budget.
For over 20 years, A1 Overhead Door Services has been in the business of repairing and replacing garage doors in Calgary. Contact us today to request a free quote for your new garage door installation.