ABOUT US
Leading Calgary Garage Door Repair Company
About A1 Overhead Doors Ltd
Experienced Garage Door Repair & Maintenance Company Serving The Calgary Area
For over 20 years, A1 Overhead Door Services has provided garage door repair and maintenance to the Calgary area. We are a full-service garage door company offering cable and spring repairs, fixing motors/openers, and installing new garage doors.
You never truly think about how important a functioning garage door is until it fails. It's time to find a professional who has the expertise, experience, and knowledge to solve your garage door repair issues in Calgary when it does.
With A1, you can rest assured that a hassle-free appointment set up and repair is only a quick phone call away. We book same day service whenever possible and will always work within your schedule. Your garage door isn't going to malfunction at a time that's optimal for you, which is one of the many reasons why we offer emergency services. Call 24 hours a day when you need a garage door repair company fast.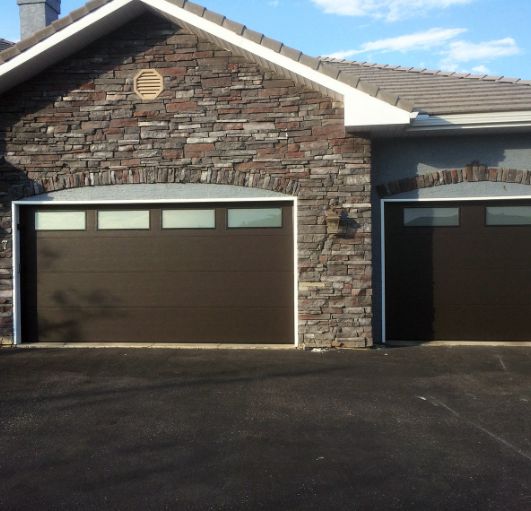 Going The Extra Mile
As a leading garage door repair company in Calgary, we believe in going the extra mile for our clients. We don't want to just install a new garage door for you and leave it at that. We'll also have one of our technicians, often the owner Don himself, check it out in six to eight months, at no extra cost to you.
When you call A1 about your garage door, you won't get an automated service. We believe in answering the phone and speaking directly to our customers every chance we get. We take the same honest and straightforward approach with every customer. Give us a call today and get that nagging garage door problem dealt with the right way by our knowledgeable garage door technicians.
My garage door won't close, the light is just flashing
I lost my remote, where do I get a new one?
Often this is something that can be easily fixed by the homeowner. Typically, the door not closing and the light flashing is because something is blocking the sensor, or the alignment is out of place.
Home Depot carries many styles of garage door openers. Taking it with you to the store is always a good idea, that way you can make sure you're walking out with the right remote. Then give us a call as we can help you sync it to the opener.
A1 Overhead Door Services is available 24 hours a day. Call anytime and let us take care of all your garage door needs.
A Malfunctioning Garage Door Can Be Stressful, But With The Right Service Company, You Won't Have To Wait Long For Repairs. See What Previous Clients Have To Say About Working With Us.
A-1 offers great service and product. It's a win-win + win-win purchase. Supporting a small Calgary business owner that takes his service seriously. Don cares about his product, high quality garage doors made in Alberta (Steel Craft doors), for Alberta weather. I have 100% peace of mind satisfaction. Had a service call recently and it proved again, that i selected the right company. Thank you Don. Jo-Anne
As a repeat customer, when my garage door broke, I didn't hesitate to phone Don. He sent a very polite Vzaw within a couple of hours. Masked up, he gave me a quote, fixed the problem, checked the overall condition of the rest of the door, made recommendations for future care, and sent an invoice to our email . Don is lucky to have Vzaw in his employ. I would recommend this company!!!
Don replaced springs and installed a new garage door opener for me about a year ago. I had a minor issue which was warranty related, and gave him a call. He made the time to come and fix it the following day (on a Sunday). Excellent service from Don! Would recommend A1 to everyone.