As a homeowner, you may be looking for ways to reduce your energy consumption and cost. A great way to cut down on your energy bill is to consider insulating your attached garage. Because your garage door is essentially a large wall that opens and closes multiple times a day, it can let out a lot of heat in your home.
When you insulate your garage and garage door, there are many benefits besides saving some money on your energy bill. However, sometimes it's not helpful to insulate your entire garage, and it just isn't worth the investment.
So, should you take the plunge and get your garage door insulated?
Does Insulating My Garage Door Help?
When you're looking to save some of your well-earned coins, insulating your garage door may not actually be the best bang for your buck. While your garage is a source of major heat loss, just insulating the garage door may not be helpful. There are several different methods for insulating a garage door, including:
Foam Board Insulation
Spray Foam Insulation
Cellulose Insulation
Reflective Insulation
Fiberglass Insulation Batts
You can additionally just purchase a new garage door that is already insulated. There are many different options, including fibreglass doors with foam cores, which will help trap heat inside your garage and minimize some of the energy loss you're experiencing. This is often a better option than insulating the garage door you already have in place.
However, insulated garage doors can be expensive, especially if your garage has double garage doors. This can be a very hefty investment, so is it really worth it?
Insulating your garage door may help you keep some of the heat inside of your garage, but, likely, other parts of your garage are also mainly at fault for letting out heat.
Insulating The Rest Of Your Garage
Looking at other parts of your garage is essential to reduce energy loss. Likely your garage is built on a slab, which typically isn't insulated. If you have a heating and cooling system in your garage, making sure the rest of your garage is insulated is important as well.
Many contractors will recommend that you insulate your garage's "touchpoints." What this means is that you should insulate any part of your garage that touches and connects to your home. For example, if your garage shares a wall with the interior of your home, you should insulate that wall. Additionally, if any part of your house sits on top of your garage, you should also insulate the ceiling to prevent energy loss.
By insulating these touchpoints, you prevent heat loss from the interior of your house, keeping your home nice and warm, and saving you some money on your energy bills.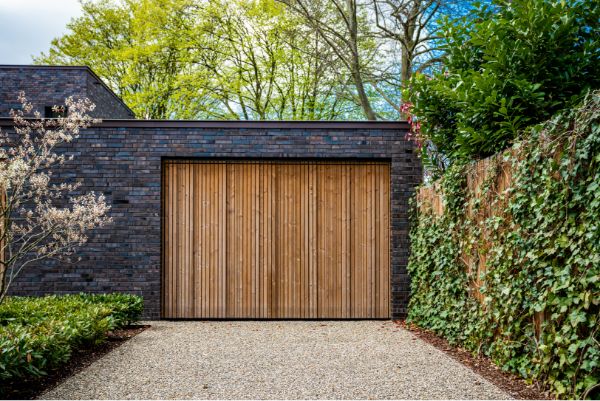 Eliminate Air Gaps In Your Garage
While insulating your garage is a good way to prevent energy loss, you should also eliminate air gaps in your garage. You can do this by ensuring your window and door weather-stripping is airtight. Additionally, you can take expanding spray to seal any cracks that lead to the outside world. By reducing the airflow in your garage, you will keep warm air inside.
When Should You Insulate Your Entire Garage?
In some cases, it can be helpful to insulate your entire garage. For example, if you're using the space for something other than parking your car. If you use your garage as a separate living space, you'll want to insulate it fully for comfort. When you're heating your garage, you want the space to be as energy-efficient as possible. You don't want to be wasting your money heating a space that isn't energy efficient at all.
If you're in your garage a lot, you want it to be comfortable! It's worth it to splurge on an insulated garage door and insulate the space so it stays warm, and you're actually able to spend an extended amount of time in your garage comfortably.
When you're not sure if it's time to talk to a contractor about insulating your garage and garage door, make sure you give our team a call. We can help you walk through your garage and assess whether or not you need a brand new insulated garage door or if you're able to just get away with insulating the touchpoints of your garage and add some insulation to your existing door.
Ready for your brand new insulated garage door? Call A1 Doors today for a professional opinion on your garage door. We handle new installations and garage door repairs.