Is your garage door making a hair-raising sound every time you open it? Not only can this be embarrassing, but it can cause long-term damage to the door as well. In this article, we'll teach you how to fix a noisy garage door. We also give you extra tips on what you should and shouldn't do when conducting any DIY work.
What Causes A Noisy Garage Door?
We should first talk about what's causing your noisy garage door. There are a few common reasons, and we'll show you how to fix them below.
Your garage door may be unbalanced. In other words, the door may have come off its track, causing an unpleasant noise.
Another reason for a noisy garage door has to do with lubrication. The hinges and rollers could be grinding against metal.
When opening or closing your door, loose nuts and bolts could also be to blame.
Lastly, your noisy garage door may be at the end of its lifespan and need replacing.
With that said, garage doors are extremely heavy. If your door struggles to open or close, do not fix it yourself. Instead, call a professional garage door technician as soon as possible.
What The Sound Means
Hear a squeaking or grinding sound? We typically attribute this to a loose roller or hinge. They could be worn out and in need of replacing.
If you hear a loud rubbing noise, it could be due to bent tracks. Your garage could be struggling to open or close because of a damaged track. Replacing the tracks is not simple. Leave this job to a professional. 
A popping sound could mean your torsion springs have snapped. Fixing this is a complex task and best suited for a professional.
If your noisy garage door feels like it's vibrating or makes a rattling sound, it could be due to loose nuts and bolts. Rattling can also be coming from a loose chain. A garage door technician should come and fix the chain for you.
Is your garage making a banging sound while opening or closing? Your panels are likely unbalanced. They could need replacing or rebalancing.
How To Fix It
Below, we list four simple ways to fix your noisy garage door.
Inspect
Using the sounds above as a clue, inspect your garage door. Inspect the nuts and bolts along the track. Using a screwdriver or wrench, tighten them.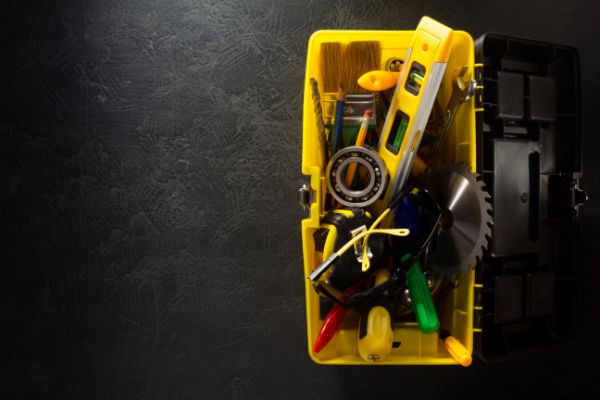 Lubricate
If your garage makes a grinding or squeaking sound, chances are it's the rollers to blame. You should lubricate your garage door rollers every few months. Head to your local hardware store or order either silicone or lithium-based lubricant online. Using the lubricant, apply a generous amount along the:
• Steel Roller Shaft
• Hinges
• Lift Cables
• Bearings
• Entire Spring System
Silicone-based lubricants have a high moisture resistance. Our winters in Alberta are no joke. Silicone lubricants also perform well in cold climates.
Lithium-based lubricants work well against metal-on-metal grinding. While it also provides protection, it is less effective against waterproofing. 
Rollers
Rollers come in different materials. Plastic and steel rollers without ball bearings last about three to five years. A steel roller with ball bearings lasts between ten and fifteen years. Lastly, nylon rollers last between twelve and twenty years. Each has a different lifespan, and it could be time to replace them. A garage door technician should install this for you. 
Acoustics
If your garage works normally, but the noise is bothering you, you could soundproof your garage. Consider insulating your garage if you haven't already done so.
Avoid These Mistakes
Garage doors are extremely heavy. If your door struggles to open or close, do not fix it yourself. In addition, do not attempt to fix an uneven door yourself. Instead, call a professional garage door technician as soon as possible.
Do not lubricate nylon or plastic garage door parts. Petroleum can degrade these materials, which means you'll have to replace them sooner than their lifespan.
Another mistake you should avoid is only tending to your garage when it's acting up. By that, we mean don't neglect regular maintenance. By being proactive and regularly lubricating and checking on the garage door parts, you can help avoid a noisy garage door.
Professional Help
With regular maintenance, you can get rid of your noisy garage door and extend its lifespan. However, sometimes it's necessary to ask for professional help. If you try the tips above but your garage still shrieks, the problem could be more complex. Specific parts such as your torsion spring or hinges could need replacing. Having a professional inspection done will save you the hassle. Now that we're headed into winter, the last thing you want is to be stuck outside your garage. 
With that said, it could also be time to replace your garage door. Regular maintenance and material factor into how long your garage door lasts. However, you should consider a replacement if it's been over fifteen years. Consult with a professional to see what your options are. 
We know garage doors as a full-service garage door repair and maintenance company operating for over twenty years in Calgary. At A1 Overhead Doors, we offer 24/7 emergency repair services. So contact us today, and we'll get out to fix your noisy garage door as soon as possible.