We know you don't want to think about winter yet. Especially with the summer we seem to be having finally. But, a little preparation now will go a long way before the snow flies.
As winter begins its approach, it's a great time to start thinking about what routine maintenance your garage door needs before the cold comes. In Calgary, we can get pretty brutal winters. Having your garage door stop working in the dead of winter is extremely inconvenient. It's essential to complete garage door maintenance before winter.
You don't want to have the nasty surprise of your garage door not opening in the morning, leaving you stranded for work or school. Your garage door is also defending your home from the outside cold air, so it's essential to make sure the door can close and seal out the cold. Otherwise, you could be facing increased heating bills if you have an attached garage, and no one wants that.
Luckily, there are many tips and tricks for homeowners to keep their garage doors in great shape. These tips can also help you avoid a more costly repair down the road. Winter conditions such as the cold and snow will cause more significant strain on your garage door. It's essential to make regular garage door maintenance a part of your routine before the first snowfall.
The cold weather can also cause the metal parts of your garage door to shrink. This will affect how it opens and closes. Inspecting and making sure that your garage door's metal parts are in perfect condition before it starts to get cold is crucial. If you have issues with the garage door springs, screws or tracks breaking during the winter, it's always best to consult a professional for a fast and experienced fix.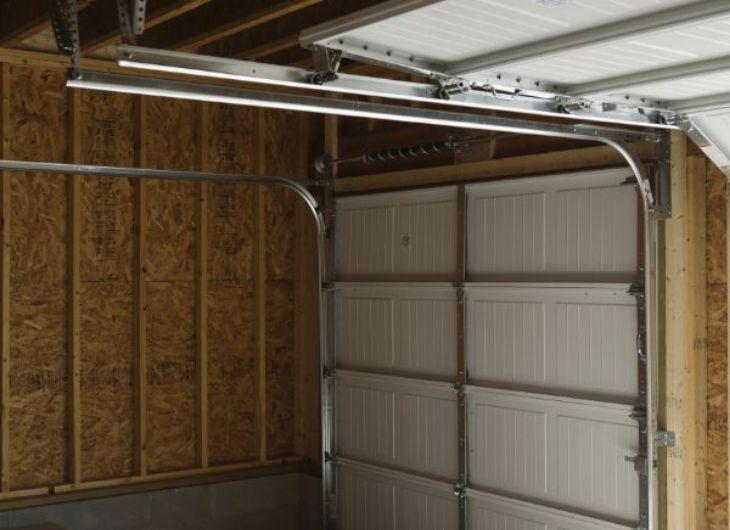 Regular Garage Door Inspection
You should be proactive about your garage door inspections, and regularly take a look to identify any potential issues. Scheduling a garage door maintenance twice a year can help you identify any significant problems before they happen. Regular inspections will also give you an idea of what your garage door and its components are supposed to look like. You can also choose to inspect your garage door yourself, making sure to follow the tips below.
When you're using your garage door, it's essential to look and listen to how it sounds and what it looks like. Are there grinding or scraping noises? Does the garage door open and close smoothly, or does the motion look jerky? If you hear any strange noises or see any jerky motions, make sure to note the location so you can inspect further or adequately explain the issue to a professional.
Important Garage Door Parts To Inspect
It's also crucial to look at the springs, pulleys and cables to see if both sides are symmetrical. Regularly inspect the garage door cables and tracks to ensure they are clear of any debris or rust. Everything should move smoothly. Keeping the tracks clear of any debris or dirt can increase its total lifespan.
Does your garage door seal correctly? If it doesn't, it can let in cold air into your home. The seal also prevents the release of heat from inside, preventing more significant issues down the road. The best way to inspect the seal is to stand in your driveway at night. Once it's dark out, you can look for cracks of light coming out from around the door.
It's essential to do this inspection of the garage door seal to replace any damaged or missing sections before it becomes a larger fix. Additionally, the presence of dirt and grime can cause it not to close correctly. Wiping down the seal around your garage door could fix the issue, and is a super easy fix! Just use any all-purpose household cleaner and a cloth to wipe it down and see if your garage door seals appropriately after.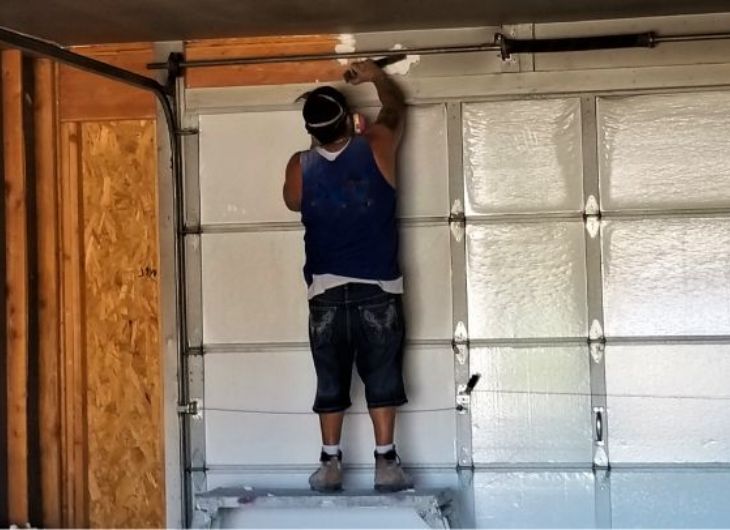 Seasonal Garage Door Maintenance
While we've discussed things to look for while inspecting your garage door, it's also essential to regularly understand what maintenance needs to be done. The Spruce has a list of the 10 top tips for seasonal garage door maintenance for homeowners. Here are some of our favourite tips that we haven't mentioned yet:
Tighten The Hardware, Specifically The Brackets & Fasteners Using A Socket Wrench For Loose Bolts
Inspect Your Rollers & Replace If They're Chipped, Cracked Or Worn. Please Do Not Remove The Bottom Roller Bracket, It's Under Extreme Tension & Should Be Left To Professionals
Lubricate All The Moving Parts Of Your Door. Lubricate Twice A Year For Best Results
Make Sure Your Door Is Properly Balanced, Manually Lift The Door Until It's Halfway Open, It Should Stay Open Without Your Help
Does Your Auto-Reverse Feature Work? Test The Pressure Sensor By Placing Something On The Ground In The Path Of The Door. The Eye Sensor Test Includes Passing Your Leg Quickly In Front Of The Sensor
Clean & Paint Your Garage Door To Keep It Looking Nice & Rust Free
Investing In Insulated Garage Doors
Are you considering replacing your current garage door with an insulated one? When you have an attached garage, it shares a wall with your home. This means if your garage door lets the heat out and cold air in, it can become an issue. Primarily it would be best to consider how exactly you use your garage door and what area you live in.
If you use your garage door often, for example, you open and close it several times a day, it might be better to invest in insulating that shared wall instead of the door. When you open the garage door often, cold air will inevitably get into the garage. You should focus more on insulating your home from that air.
However, if you have a detached garage or rarely open the garage door, it might be useful to consider investing in an insulated garage door. You can always consult with a professional garage door installation and repair company to see if an insulated garage door would be the right choice!
Doing your regular maintenance and getting all of your necessary repairs or garage door replacements before winter is vital to avoid hassle during a snowstorm. Following the tips above should help you identify any issues and even help fix or alleviate the smaller issues!
Need a garage door inspection or have an emergency garage door situation before winter? Contact A1 Garage Doors today, we can get your garage winter maintenance ready! We handle emergency repairs 24/7 and are available to you when it matters most.