Many benefits follow with having a garage door replacement. We understand this is an investment, and you want to pick the right one for your home. This article will highlight the benefits of a new, quality garage door. We explain how to budget, what style to look for, and things you should consider. 
Why A New Garage Door?
You may wonder when to replace your door. First, garage doors have an average lifespan between fifteen and thirty years. This number depends on the environment, how often you maintain your door, and how often it's used. To lengthen the lifespan of your current door, we recommend at least two checkups per year. 
Further, the springs play a vital role in the function of your overhead door. They have a lifespan of approximately 10,000 cycles. Depending on how often you use your garage door, this could be over or under ten years.
A new garage door can also add curb appeal and added home value. The return on investment on a quality garage door is over 90%. Compared to other home improvement projects, a garage door replacement tops the list. 
Budget & Style
It's important to stay realistic while planning and researching for a quality garage door. First, measure your garage door. While it varies, standard garage door sizes have a width of 8-10ft and a height of 7-8ft. Additionally, a double garage door will typically measure 16ft by 7ft.
Be sure to include a budget in your decision-making process. A double car door replacement will cost more than a single. You should also factor in material, add-ons, and installation costs to your budget. Below, we discuss common garage door materials and what to consider.
Steel
Although prices vary, steel doors are one of the most common types you'll see. Galvanized steel doors are popular for their durability and affordability. They're rust-resistant and won't warp. You can purchase them with or without insulation. In addition, you can paint them to match your home better. However, they are also prone to denting. Just be sure the kids aren't playing hockey around your garage.
Composite Wood
Authentic wood garage doors can come with a hefty price tag. They're made of cedar, redwood, fir, or meranti. Real wood doors are prone to warping and should be regularly maintained.
With that said, composite wood doors offer a realistic look and are great for those going for a rustic feel. If you want to make your home stand out, these garage doors can come customized. You can add overlays and patterns to imitate authentic wood better.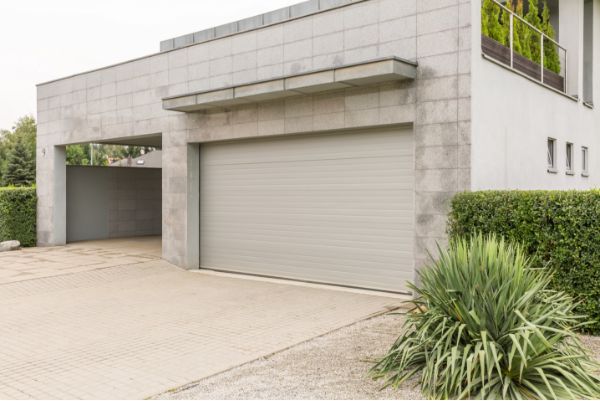 Fibreglass
Want another option for a quality garage door that mimics wood? Fibreglass doors can do just that. They come with grain texture to bring out that wood texture and feel while remaining affordable. Fibreglass is lightweight but does not provide insulation like other materials.
Aluminum
Aluminum doors have a beautiful, contemporary look to them. You can customize the colour, and having it insulated will come in handy during the winter. They're lighter than steel and ideal for all climates. However, strong hail can cause dents. It's important to have a specialist who can come repair any damage for you.
Garage Door Types
There are two types of garage doors, sectional and single panel/swing style. Most homes come with a sectional garage door. This means they attach four or five panels with hinges. This allows the door to curve upward when opening. One pleasant benefit to the sectional door is that you can replace a single panel.
A single panel or swing style door, on the other hand, is one piece of material. These doors will swing upward or inward when opened. This style of door will require more space.
Other Considerations
When choosing a quality garage door, don't forget about the add-ons—for example, security features including security cameras, a garage door opener, or lighting. 
Speaking of lights, they can make your property safer and boost curb appeal. Highlight your new garage door with light fixtures. 
We can also customize garage doors. However, plan this in your budget as well. Not only can you choose from an array of colours but also windows and hardware. Hardware includes handles, latches, or hinges.
Lastly, Alberta's winters are long and cold. Having a quality garage door with insulation will save you money in the long run. Insulation helps keep your garage temperature stable. Your garage will stay warm during the winter but also stay cooler in the summer. In addition, your belongings and car will benefit from temperature stability as well. Insulation can also help block noise and ultimately make a stronger garage door.
Professional Installation
Although you can find do-it-yourself videos on installing a garage door, we do not recommend this. The garage door is heavy and has many intricate parts that need to work together. After investing in a quality garage door, you want to be sure it works properly. Work with a specialist who has experience in installing all types of overhead doors.
Ready to find a quality garage door that's perfect for your home? At A1 Garage Doors, we can install your new garage door and offer 24/7 emergency repair services. Contact us today to request a quote.