We've all spent a significant time at home this past year. This means many have come to prioritize their living space. Home improvement includes both the interior and exterior of the home. One highly beneficial way to boost your home's curb appeal is through a garage door makeover. This article will first outline what curb appeal is. Then we will go into detail on various garage door styles and how a makeover can benefit you.
What Is Curb Appeal?
Maybe you've heard of the term before but are still unsure what it is. We use curb appeal to describe the exterior of a property from a street view perspective. Think of it as a scale. The higher the curb appeal, the more visually attractive it is. You'll find this word used in real estate when inspecting the attractiveness of a home. 
Like a first impression, you want it to be good. Many homes have a garage attached at the front of the house. That is a sizeable chunk of space people's eyes will be drawn to. Even if you aren't planning on selling your home soon, boosting curb appeal now can still help raise the value of your home. 
Is Curb Appeal That Important?
In short, yes. Home renovations add value to your home, but not all will reap the same benefits. 
Did you know? There's a 94.5% return on investment on a garage door replacement! A garage door makeover reels in a higher return than replacing your home's siding. With that said, let's talk about what a garage door makeover means. 
Garage Door Makeover
You might think, my garage door works fine, why replace it? Like anything, garage doors also go through style changes over the years. Yours could be outdated or no longer match the exterior of your home. In addition, your garage door might have many dents and scratches on it. The average lifespan of a garage door is between 15-30 years. It may be time to upgrade to a newer, safer one. 
With a new garage door, your home will look updated and put together. Various garage door styles and colours will even help to highlight the exterior elements of your home.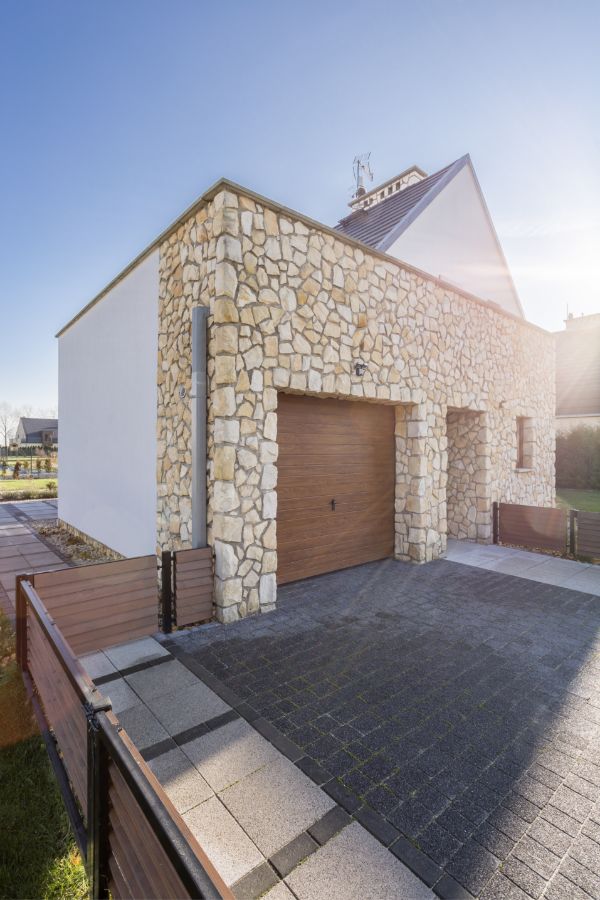 Garage Door Styles
Below, we have categorized garage door styles to help you further plan and imagine what kind of door is right for your home. 
Modern Style
For a modern and minimal look, consider an aluminum or steel garage door. Aluminum is lightweight and resistant to rust and corrosion. Steel doors, on the other hand, are extremely durable. Both are a great choice if you're looking for a sleek modern look.
Rustic Style
A rustic look will beautifully complement Alberta's landscape. If this is the style you're looking for, we recommend a garage door made of wood. Although not as common, wood garage doors work well so long as they're finished with a high-quality waterproof adhesive. This will best protect the wood from decaying. 
Luxury Style
Want to give your home a luxurious feel? Carriage house garage doors can help achieve this look. You can achieve this style with either wood or steel. One of the significant benefits of choosing the carriage house style is the ability to customize it. By including extra details like hardware, your door will become one of a kind.  
Bonus Additions
Now that you have a better idea of style, here are a few extra things to consider for your garage door makeover. 
The first is windows. Windows help balance a garage door and make it more interesting. Next, choose a shape and colour that reflects the ones in your home. By doing so, your home and garage will look more balanced. 
Next, consider how colour affects the overall feel. Colour is a great way to create highlights and contrast. Consider the colour palette your home falls under. The great thing about garage doors is that you can paint them. Therefore, you can continue to customize it even after having it replaced. 
Lastly, garage door hardware can help add extra visual appeal. Adding pull handles, latches, and strap hinges give a touch of elegance and a 3D feel to an otherwise plain door. For best results, keep it simple so that the door doesn't look busy. 
Professional Installation
As mentioned earlier, garage doors have a lifespan of up to 30 years. Having a new one installed now means you can easily boost your curb appeal. Additionally, you'll have an edge when it comes time to sell your home. Potential buyers will be more attracted to a home that doesn't require an immediate garage door replacement. 
With that said, installing a new garage door is a complex process. Garage doors are heavy and require special tools and knowledge. A reliable garage door technician knows how to install it the first time. Because Alberta's summers are short, home improvement projects are most popular during these months. Book an appointment early that best fits your schedule. Above all, having a professional come to do it is best.